Safe-T-Salt - 20kg - Windsor Salt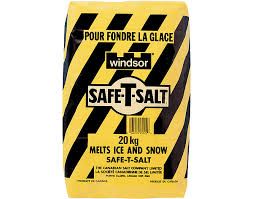 Safe-T-Salt - 20kg - Windsor Salt
Description: Safe-T-Salt, Windsor.
Packing: 20KG / Bag


Features & Benefits:
Windsor

®

Safe-T-Salt

®

(5.44 kg, 10 kg, 20 kg and 40 kg)

Melts ice and snow




Home use:

Sprinkle on steps, walkways, driveways, etc. Safe-T-Salt

®

removes ice and snow the easiest possible way.

Car use:

Safe-T-Salt

®

provides quick melting traction under the wheels stuck on ice or in the snow. Store in car trunk for added weight.
Salt has been used in de-icing since the 1940s, providing safety and mobility for motorists, as well as for commercial and emergency vehicles. Without it, winter would be hazardous and chaotic. In Canada, the primary type used is rock salt, which is mined directly from the earth and requires no additional processing. In excess of 4.5 million tons of salt is used yearly to keep roads safe in Canada alone.

It works by a simple principle. The brine solution created when salt is applied to ice and snow has a lower freezing temperature than the surrounding ice, making travel safe.
In fact, it's the safest, most economical and efficient de-icer known, and has the added advantage of being in plentiful supply.