Rubbermaid - 1924809 - Maximizer Microfiber Blend Mops - Medium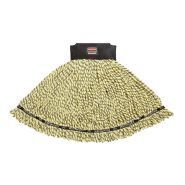 Rubbermaid - 1924809 - Maximizer Microfiber Blend Mops - Medium
Description: Rubbermaid -  Maximizer Microfiber Blend Mops - Medium
Packaging: Each
Available Size: 
Yellow

White

Blue

Green

Red
Features & Benefits:
The Maximizer Microfiber Mop provides best cost of ownership and highest level of cleaning power.

A precise combination of monofilament microfiber and unique Maximizer blend.

The highest level of absorbency delivering optimal cleaning performance.

Industry Leading Durability.
Developed to withstand up to 100 commercial launderings cycles.