Rubbermaid - 1863894 - Executive 16" Rubbermaid Pulse Microfiber Flat Mop Frame - Double-Sided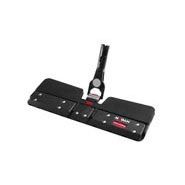 Rubbermaid - 1863894 - Executive 16" Rubbermaid Pulse Microfiber Flat Mop Frame - Double-Sided
Description: Rubbermaid - Executive 16" Rubbermaid Pulse Microfiber Flat Mop Frame - Double-Sided
Features & Benefits:
Lightweight Double-Sided Frame for use with Rubbermaid Pulse™.




DURABLE COMMERCIAL CONTRUCTION




LIGHTWEIGHT for enhanced ergonomics.




QUICK-CONNECT allows it to be used with our Rubbermaid Pulse Handle or any of our telescoping handles to help provide the perfect height for users dust mopping or cleaning with our Clean Water System™. It also allows your to switch to our Single-Sided Frame with ease.