Rubbermaid - 1863893 - Executive 18" Rubbermaid Pulse Microfiber Flat Mop Frame, Single-Sided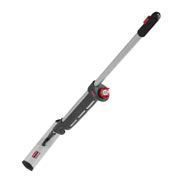 Rubbermaid - 1863893 - Executive 18" Rubbermaid Pulse Microfiber Flat Mop Frame, Single-Sided
Description: Rubbermaid - Executive 18" Rubbermaid Pulse Microfiber Flat Mop Frame, Single-Sided
Features & Benefits:
Flat profile slides easily under furniture and equipment.

DURABLE COMMERCIAL CONSTRUCTION

HOOK-AND-LOOP STRIPS are replaceable and cost effectively extend product life.

It also allows your to switch to our Double-Sided Frame with ease.

LIGHTWEIGHT aluminum construction for enhanced ergonomics and productivity.

QUICK-CONNECT allows it to be used with our Rubbermaid Pulse™ Handle or any of our telescoping handles to help provide the perfect height for users dust mopping or cleaning with our Charging Bucket System (1863992).