Rubbermaid - 1805988 - Executive Deluxe High Capacity Housekeeping Cart with Locking Drawer - Black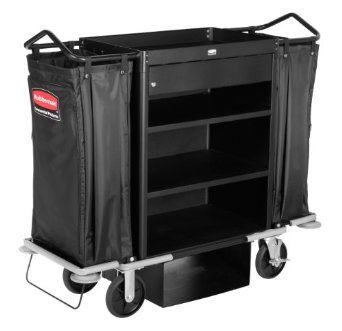 Rubbermaid - 1805988 - Executive Deluxe High Capacity Housekeeping Cart with Locking Drawer - Black
Description: Rubbermaid - Executive Deluxe High Capacity Housekeeping Cart with Locking Drawer - Black
Features & Benefits:
Three-shelf linen cart and locking drawer provide organization, storage, and security. Clean up to 20 rooms.




15.3 FT x 3 OF STORAGE for linens and other supplies.




COMFORT-GRIP HANDLE for easy maneuverability.




COMPACT VERSIONS designed for use in narrow spaces or as turndown cart (FG9T6000BLA, FG9T6100BLA, and FG9T6200BLA).




DURABLE POWDER-COATED FINISH to resist scratches and fingerprints.




FULL SIZE VERSIONS designed for use in larger spaces to cover more rooms in one pass (1805988, FG9T6400BLA, FG9T6300BLA, and FG9T5900BLA).




MOBILE BAG included to increase productivity and capacity. Add our Side-Load Mesh Linen Bag (FG9T9101BLA) to work with the Mobile Bag to maximize capacity and productivity. Adds up to 7.4 bushels of capacity.




NON-MARKING, ball bearing wheels and locking casters provide smooth maneuverability and the ability to place the cart where you need.




ROTATING BUMBERS help protect walls and furniture.




VACUUM HOLDER AND BUNGEE helps secure a vacuum during transport. See our new Executive Series vacuum line to find the perfect vacuum for your needs (12" Manual Height Upright Vacuum, 1868440, or go with our Ultra Lightweight model, 1868622, for a more basic vacuum, both are great for Housekeepers).




WASTE DIVIDERS let you sort trash from recyclables quickly and easily, room to room (Dual Waste Wire Bag Holder FG6162000000 or Single Waste Wire Bag Holder FG6163000000).