Regular Catering Box - 50/BD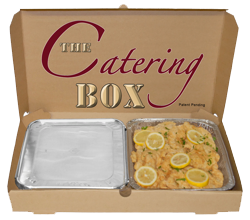 Regular Catering Box - 50/BD
Description: Regular Catering Box
Packing: 50/BD

Dimensions:
Unfolded Dimension: 37.09" x 27.02
Folded Dimensions: 21-1/2" x 13-1/16" x 2-5/16"
Features & Benefits:
Give Your Customers A Better Experience!
No More Getting Burned!
No More Dropping Trays!
No More Messy Trays Leaking In Your Car!
Keep Food Warm & Safe To Destination!
Safe & Professional Way To Transport Your Food!
Brand Your Very Own Catering Box! We Do Custom Printing!
Catering Configurations:
One Full Size Shallow Tray + Serving Utensils
One Full Size Medium Tray + Serving Utensils
Two Half Size Shallow Trays + Serving Utensils
Two Half Size Medium Trays + Serving Utensils
(see Jumbo Catering Box for more configurations)