Kitchen Paper Towel - 2 Ply, 150 Sheet - [01880] - 24 RL / CS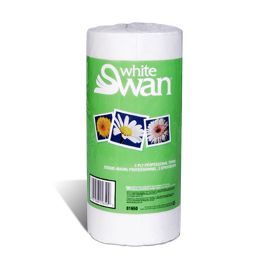 Kitchen Paper Towel - 2 Ply, 150 Sheet - [01880] - 24 RL / CS
Description: White Swan Paper Towel [01880] - Good absorbency and utility in a Professional / Kitchen Towel. White Swan Professional Towels work beyond the Kitchen and are suitable for use as a light duty wiper. 
Thickness: 2 Ply
Sheet Count: 150 Sheets / Roll
Packing: 24 Rolls / CS

Features & Benefits:

Extra big roll (150 Sheets) reduces run-outs. 
Individually wrapped rolls with poly film, help to protect the roll from becoming contaminated in workplace environments. 
Typical applications include Windows, Table Wiping and Paint Preparation and spill clean-up. 
White Swan Towels are the right blend quality, performance and economy. 
This quality product is Ecologo certified made with 100% recycled fiber and over 88% post-consumer content.