Facial Tissue - 2 Ply, 100 Sheet - [FT30100C] - Metro - 30Boxes/CS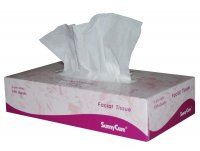 Facial Tissue - 2 Ply, 100 Sheet - [FT30100C] - Metro - 30Boxes/CS
Description: Metro Paper Facial Tissue - [FT30100C] - Provide employees, customers, and students with a comfortable personal hygiene solution with this box of facial tissue which is packaged in a slim and attractive box.
Sheet Size: 8.3" x 7.5"
Packing/Box: 100 Sheets
Pacing/Case: 30 Boxes/Case
Features & Benefits:

2-ply Facial Tissue Paper is manufactured using quality materials, and the 2-ply design provides durability without sacrificing softness.
Remove the cardboard cutout strip prior to restocking facial tissue, and dispose of cardboard box when empty.
Store this item in a dry location to prevent damage.
This product is tailored for use in shipyards, warehouses, barber shops, beauty salons, shopping centers, schools, restaurants, cafes, manufacturing facilities, processing plants, office buildings, and homes.