En Kay Veto-Bac Concentrate 4L - 4/CS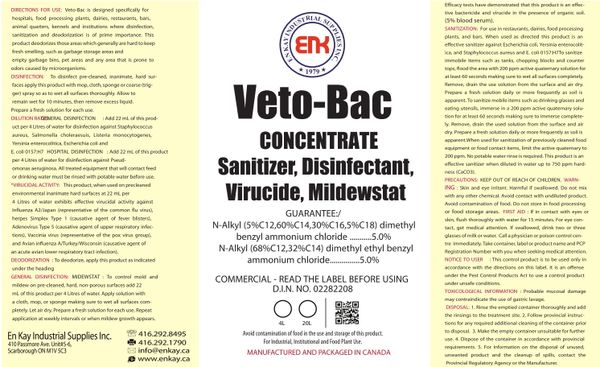 En Kay Veto-Bac Concentrate 4L - 4/CS
Description:Designed specifically for hospitals, food processing plants, dairies  restaurants, bars, animal quarters, kennels, and institutions where disinfection, sanitation, and deodorization is of prime importance.This product deodorizes those areas which generally are hard to keep fresh smelling, such as garbage storage areas and empty garbage bins, pet areas, and any area prone to odors caused by microorganisms.
Packing:4/CS
Weight:4L
Features & Benefits:
To disinfect pre-deaned, inanimate hard surfaces
helps control mold and mildew on pre-deaned, hard, non-porous surfaces.
Powerful
Quick action
Industrial and Institutional.
Sanitizer, disinfectant, virucide, mildewstat.