En Kay Natural Citrus Degreaser 4L - 4/CS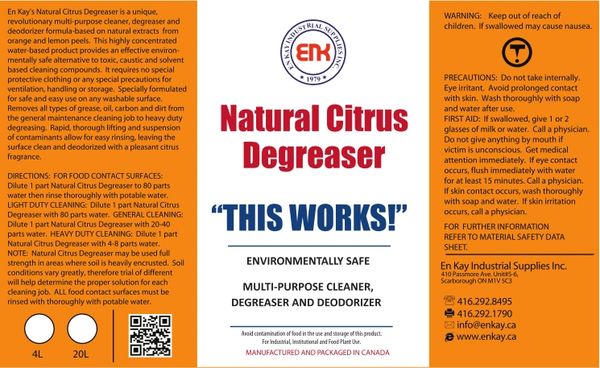 En Kay Natural Citrus Degreaser 4L - 4/CS
Description:En Kay Natural Citrus Degreaser 4L - 4/CS
Packing:4/CS
Weight:4L
Features & Benefits:
En Kay`s natural citrus degreaser is a very effective, safe and heavy-duty cleaner/solvent that contains a citrus base to remove contaminants such as adhesives, grease, oil, tar, waxes, and inks from most surfaces.
Environment safe, Bio-degradable.
Non-chlorinated, Non-flammable, Non-toxic and Non-caustic.
Quick acting.
Deodorizes as it cleans.
Multi-purpose cleaner.
Cleans from general to heavy-duty.