En Kay Fryer Cleaner 10KG Each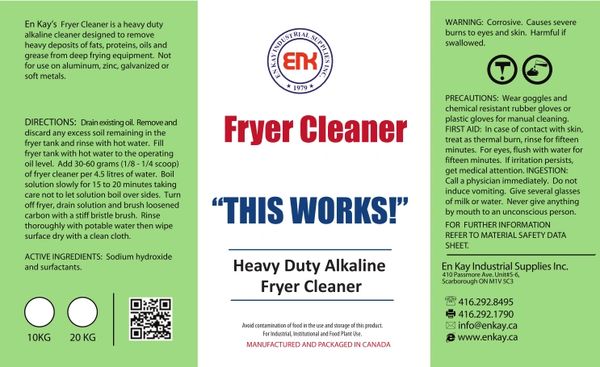 En Kay Fryer Cleaner 10KG Each
Description:En Kay's Fryer Cleaner is a heavy duty powdered alkaline cleaner designed to remove heavy deposits of fats, proteins, oils and grease from deep frying equipment. Not for use aluminum, zinc, galvanized or soft metals.
Packing:Each
Weight:10KG
Features & Benefits:
Neutral ph formula
Concentrated product
High sudsing formula
User friendly packaging
Pleasantly scented
Phosphate free and biodegradable
Gentle to work with
Extra value
Provides excellent grease and soil removal
Environmental friendly
Directions for use:
Drain existing oil. Remove and discard any excess soil remaining in the fryer tank and rinse with hot water. Fill fryer tank with hot water to the operating oil level. Add 30-60 grams (1/8 - 1/4 scoop) of fryer cleaner per 4.5 litres of water. Boil solution slowly from 15 to 20 minutes taking care not let solution boil over sides. Turn off fryer drain solution and brush loosened carbon with stuff bristle bush. Rinse thoroughly with portable water then wipe surface dry with a clean cloth.