En Kay Descaler 4L - 4/CS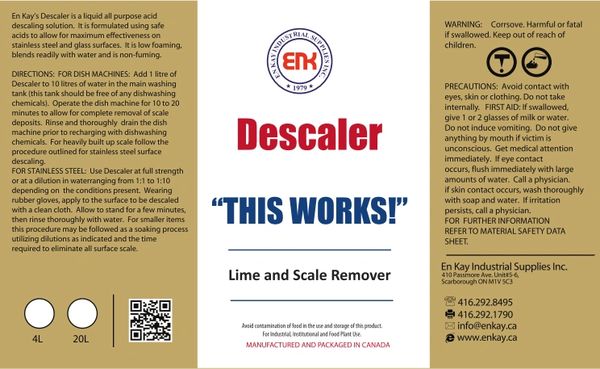 En Kay Descaler 4L - 4/CS
Description:En Kay Descaler is a liquid all purpose acid descaler solution. It is formulated using safe acid for maximum effectiveness and safety. Used on stainless steel and glass surface to remove scale build-up before it can damage equipment. Keeps heater elements in dishwashers and steam tables operating at maximum efficiently and eliminates premature heater burnout due to excessive sale build up. Removes unsightly scale that is impossible to scrub clean even with steel wool.
Packing:4/CS
Weight:4L
Features & Benefits:
Clear colour will not stain
Blends easily with water
Low foaming
No fumes
Very economical and effective scale control
Will not stain or damage surface finish
Lowers cost
Maintains heater efficiency in dishwashers and steam tables.
Safely dissolves mineral deposits faster than any other liquid descaler on the market.
Environment safe.
Non-flammable
Lime and Scale remover.
Application:
For all stainless steel and glass surfaces. Excellent for use in dishwashers and glasswashers. Essential for steam tables. M akes glass coffee pots like new.
For Dishmachines:

Add 1 litre of descaler to 10 liters water in the main washing tank, operate the dishmachine for 10 to 20 minutes to allow for complete removal of scale deposits. Rinse and thoroughly drain the dishmachine prior to re-charging with dishwashing chemicals. For heavily built up scale follow the procedure outlined for stainless steel surface descaling.

For stainless steel:

Use En kay's descaler at full strength or at a dilution in water ranging from 1:1 to 1:10 depending on conditions present. Wearing rubber gloves, apply to be descaled with ba clean cloth. Allow to stand for a minutes, then rinse thoroughly with water. For smaller items this procedure may be followed as a soaking process utilizing dilutions and the time required to eliminate all surface scale.