En Kay 3D All Purpose Cleaner 4L - 4/CS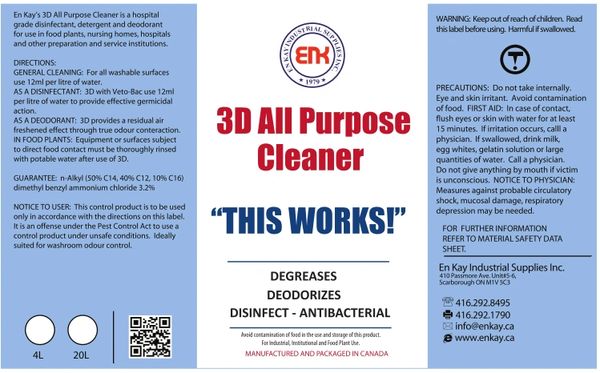 En Kay 3D All Purpose Cleaner 4L - 4/CS
Description:En Kay`s 3D all purpose cleaner is a hospital grade disinfectant, detergent and deodorant for use in food plants, nursing homes, hospitals and other preparation and service institutions.This highly concentrated water-based product provides an effective environmentally safe alternative to toxic, caustic and solvent based cleaning compounds.
Packing:4/CS
Weight:4L
Features & Benefits:
Registered with health canada.
Requires no special protective clothing.
No special precautions for ventilation, handling or storage.
Safe and easy use on any washable surface.
Removes all types of kitchen grease, oil, carbon and dirt from the general maintenance cleaning job to heavy duty degreasing.
Rapid, thorough lifting and suspension of contaminant's allow for easy rinsing.
Application:
Hospitals
Nursing homes
All hard surfaces
Floor scrubbers
Carpet cleaning and pressure sprayer system.
Food plants
Food fryers
Porcelain fixtures
Spot cleaning
Direction for use:
General Cleaning

: For all washable surfaces use 12ml per litre of water.


As A Disinfectant

: 3D with Veto-bac use 12ml per litre of water to provide effective germicidal action.

As A Deodorant

:

3D provides a residual air-

freshened

effect through true odor counter-action.

In Food Plants

: Equipment or surfaces subject to direct food contact should be thoroughly rinsed with potable water after use of 3D.