Dispenser Napkins - 1 Ply, White - [2410] - Cascades ServOne - 6016/CS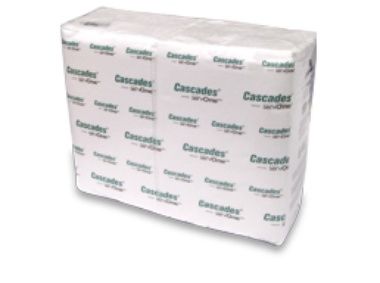 Dispenser Napkins - 1 Ply, White - [2410] - Cascades ServOne - 6016/CS
Description: Napkins Cascades® White For ServOne™ Twin Pak [2410]
Colour: White
Thickness: 1 Ply
Packing: [376/PK x 16PK/CS] 6016/CS

Use ServOne Dispenser: Counter & Wall & Table Top

Features & Benefits:

The Cascades for ServOne interfolded napkins, combined with the ServOne dispensing system, reduce napkins consumption and waste by up to 25%.
The Cascades for ServOne white napkins are made from 100% recycled fiber.
70% is postconsumer material, and are certified Ecologo and are whitened without chlorine.
The completely sealed plastic packaging protects the napkins until needed.