Disney Baby ECOS Natural Stain & Oder Remover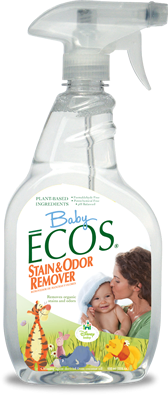 Disney Baby ECOS Natural Stain & Oder Remover
Description: Disney Baby ECOS Natural Stain & Oder Remover
Baby ECOS® Stain and Odor Remover is an excellent cleaning tool that is designed for daily use. Eliminate your organic stains and odors with our naturally-derived formula. Use on most everything; fabrics, carpets, upholstery, rugs, & floors. Safe for everyone in your house.
"Give your family the sparkle and cleanliness of the Hundred Acre Wood. Each time you and your little ones catch the invigorating scent of fresh lemon trees, it's like an invitation to wander in the Wood with sunshine to brighten each and every day."
Size: 22fl oz
Features & Benefits:
Eliminates Organic Stains and Odors!

Never Sets Stains or Fades Colors!

Plant-Based Ingredients!
Formaldehyde Free
Petrochemical Free

pH Balanced

Non-Toxic

Highly concentrated for a fast, safe clean wash!
Ingredients:

Water, Enzymes, Ethanol (Derived From Corn), Biodegradable Surfactant (Derived From Coconut) and Lemon Oil. Does Not Contain 1,4-Dioxane.