Disney Baby ECOS Here & There All Surface Cleaner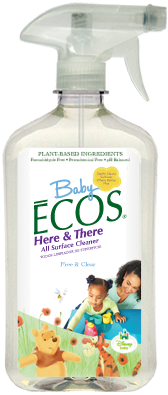 Disney Baby ECOS Here & There All Surface Cleaner
Description: Disney Baby ECOS Here & There All Surface Cleaner
Baby ECOS® Here & There All-Surface Cleaner is formulated from pure plant ingredients with babies and their busy mothers in mind. Our pH balanced formula thoroughly cleans all surface areas gently and naturally, leaving them fresh and clean without any harmful residues.
Use everywhere in the nursery and around the house, on any water-safe surface that needs a baby-safe, effective cleaner. Leaves floors tack-free, shines mirrors and cleans counters, cabinets and all hard surfaces high and low!
Size: 17fl oz
Scent:
Free & Clear
Features & Benefits:
Gently cleans surfaces where babies play



Plant-Based Ingredients!

Formaldehyde Free

Petrochemical Free

pH Balanced

Non-Toxic
Ingredients:

Water, Alcohol Denat. (Corn-Derived Solvent), Caprylyl/Myristyl Glucoside (Plant-Based Surfactant), Potassium Sorbate (Plant-Based Food Grade Preservative) and Citric Acid (Plant-Based pH Adjuster).