Dinner Napkin - 1 Ply - [MDN1988] - Imperial - 3000/CS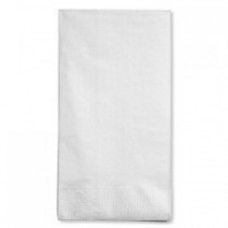 Dinner Napkin - 1 Ply - [MDN1988] - Imperial - 3000/CS
Description: Dinner Napkin 1 Ply - Imperial - Great quality 1-ply dinner napkin.
Colour: White
Thickness: 1 Ply
Packing: [100/PK x 30PK/CS] 3000/CS

Features & Benefits:

1/8 Fold is compatible when rolling cutlery.

Large folded dimensions provides upscale look when presentation is everything, more hygienic due to reduced cutlery overhang.

Large open dimensions provide more total square inches versus most competitors, which maximizes lap coverage and increases total absorption to help to reduce consumption.

Low dirt count for a quality look.