Cut Resistant Gloves - The HyFlex® - [11624] - Various Sizes - Pair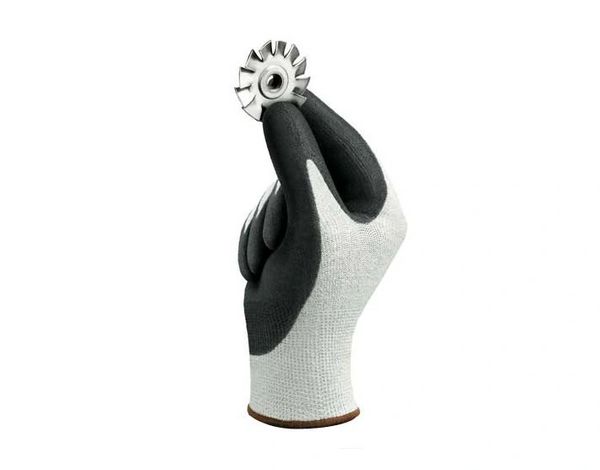 Cut Resistant Gloves - The HyFlex® - [11624] - Various Sizes - Pair
Description: Safety and comfort combined. No other glove offers the dynamic mix of protection and comfort of the HyFlex® 11-624 glove. The cut resistance and lightweight ergonomic fit strike the perfect balance of protection and precision when working with small, sharp parts.
Colour: Black Palm | White Back
Material: PVC
Sizes: 6 (XS), 7 (S), 8 (M), 9 (L), 10 (XL), 11(XXL)
Packing: Pair
Features & Benefits:

Cut Resistant DSM Dyneema® engineered yarn composition with Ergonomic design
Offers user unmatched combination of comfort, softness, coolness & cut protection
Advanced fiber technology increases worker confidence while on the job
EN 388 Level 3 / ANSI Level 2 L Soft and cool to the skin for all-day comfort
Molds naturally to hand, preventing fatigue, while providing comfort
Exclusive fiber combination provides exceptional precision, dexterity and flexibility when handling small parts
Extensive size range protects more workers (6–11)

Final and sub-assembly areas for use when handling metal components

Glass handling and installation

Small part stamping

Wiring

Forming, machining and bending of small parts



Industries:
Aerospace/Transportation

Automotive • Construction

Metal Fabrication

Paper Manufacturing

White/Durable Goods Applications

General material handling

HVAC

Metal finishing

Sheet metal handling & finishing

Small sharp part handling & assembly

Stone & tile installation



More Details:
Maximize safety and productivity. The HyFlex® 11-624 glove is a simple and effective way to decrease injury expenses without reducing productivity or quality. That's because it combines superior cut protection, abrasion resistance, grip, tactility, and dexterity in a comfortable glove your workers are more likely to wear.