CLEARSHIELD w/ALOE VERA & VITAMIN E, 2 OZ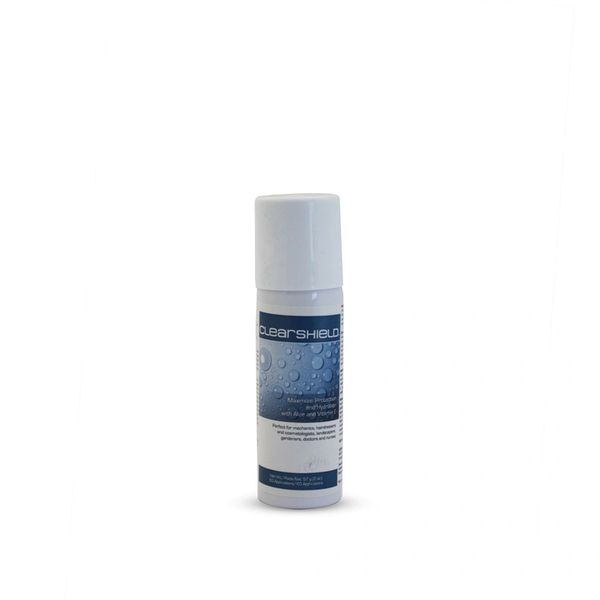 CLEARSHIELD w/ALOE VERA & VITAMIN E, 2 OZ
CLEARSHIELD MAXIMUM PROTECTION AND HYDRATION, 2 OZ
The body has many lines of defense to help protect itself from harm. The skin is the first line of defense. Nature did not intend for the skin to be exposed to odours, stains, dirt, chemicals and irritants. 
ClearShield Maximum Protection and Hydration is a non-toxic, biodegradable barrier, designed to be applied to the skin.  Within five minimums of application, ClearShield creates an invisible barrier over the skin.  It does not wash off like lotions or skin creams. This invisible barrier is a unique blend of three silicone in a combination that is effective at repelling many water-soluble and oil-soluble irritants.  ClearShield allows the skin to breathe and perspire  normally, without affecting the sense of touch or natural mobility of the hands or fingers.  Aloe very and vitamin E help to moisturize and soften the skin with use.  

ClearShield provides moisture for chafed, chapped, cracked or wind-burned skin. It protects against dirt, grime and grease and is perfect for dry skin. Many odours, stains, dirt, chemicals and irritants wash away without removing the invisible barrier. ClearShiled is perfect for mechanics, hairdressers and cosmetologists, landscapers, gardeners, doctors and nurses.
It is very effective for use in:
beauty and nail salons

childcare services

nursing homes

food services

hospitals

medical offices

dental offices

cleaning services

auto repair shops

yard and landscaping. 
DIRECTIONS FOR USE: 
Shake can vigorously before using. Thoroughly wash and dry skin before applying. Apply a generous amount to the k sin. Rub thoroughly into the skin. Pay special attention to cuticles and skin under the nails. Let dry for about five minutes. Apply liberally as often as necessary after washing exposed area. 

Note: ClearShield protects against most water-soluble and oil-soluble irritants. ClearShield s not a substitute for conventional protection measures such as gloves or germicidal or disinfectant skin cleansing, but provides additional protection. Do not use as protection for skin abrasions. Avoid prolonged exposure to any irritant. Always wash promptly after exposure. ClearShield is not guaranteed to protect your skin. Please consult a physical immediately if you are injured by any substance.